[ad_1]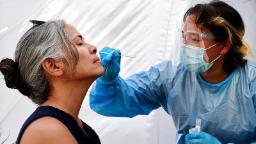 Dr. Francis Collins, director of the National Institutes of Health, mentioned there's presently no proof that the United States must go forward with booster photographs, though that is one thing that's being checked out nearly day by day. 
"Well, we're certainly looking at it almost daily," Collins mentioned on ABC's Good Morning America Monday when requested if the necessity for booster photographs are inevitable within the US. "As you heard, FDA oversees this and the data is gathering both from the US and from what we've learned from places like Israel and the UK." 
"I would say right now, there is not evidence that we need to go ahead with boosters in the United States, but that's an ongoing debate," he mentioned. "Let me just be clear, though, that actually the existing approved vaccines in the US, Pfizer, Moderna, J&J, do have high effectiveness against Delta. There is no reason to rush forward at this present time for a booster decision, but we're going to watch that day by day." 
Asked what the hurt was in transferring ahead, Collins mentioned that they only need to do the factor that's going to be most useful for individuals and likewise acknowledge that there's a worldwide scarcity of vaccines and international locations nonetheless determined to get entry.
"If the United States, with its large population, decides we need a whole other bunch of vaccines for our country, that means those are not going to be able to go somewhere else," he mentioned. "We will do that if that's what's necessary to protect Americans. At the present time though, the data doesn't convince us that it's time to go forward." 
[ad_2]

Source link